Business Owner Upskilling Part 4: Creating a Team Culture
Business Owner Upskilling Part 4: Creating a Team Culture
---
As a business owner, you'll want to feel confident that your team and your business can operate without your consistent oversight (especially when you've got an established business where your responsibilities are far-reaching and may require more time off-site). The key to a functional, friendly and smooth-running business often comes down to the people powering the operations, your team culture.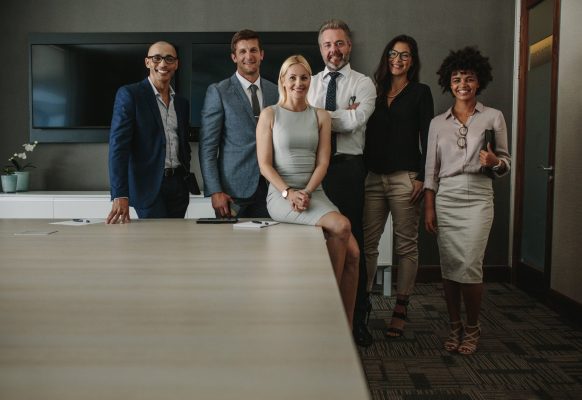 The best way to cultivate this? Actively stepping in as a leader to design and create a team culture, rather than one where everyone is siloed off into their individual roles and skill sets. Of course, this is absolutely easier said than done, but it's an extremely worthwhile exercise for yourself as well as your wider team and stakeholders.
A positive team culture that honours and celebrates the team and achievements of your employees as a whole will support how your employees interact with one another, how they connect with their role and the business mission, and importantly, their motivation to support the greater business goals long and short term.
If you're just getting started, here are our top 4 steps to making team culture a top priority in your business.
Get your values in order
It's difficult to centre your staff around a team culture with mixed messaging around your core business values, so if you haven't done so already, make time for a values-setting session with your team. Get aligned on the goals and mission for your business, and make it clear that these values extend not only to your customers but within your team. Many business owners and leaders will also have a separate guide to the core business practices that govern their teams, for example, "We treat each other with respect and consideration even during high-stress periods."
By connecting your team to your values, you create a vision that extends well beyond a task or an individual and reconnect your team with purpose behind their role and how they contribute to your success. 
Hire for a cultural as well as skills fit
While it can take some time to discover if a new hire is the right fit for your business, ensure that you share core business and team principles as part of your onboarding process. Here at Finn, we've put together several articles and blog series' discussing how to find and retain great talent, which often means they share the same company and cultural values.
This might mean looking for new team members who are passionate about what your business does, who love to work in a collaborative manner or who have strong references that affirm that these new hires operate effectively in group settings. 
Yes, the skills for the job are key, however it's important to remember that you can always train up a team member in a new skill or technology, but it's more difficult to inject the kind of personality fit that's right for your business after the fact.
Collaboration is king
Make your business a place where collaboration is encouraged and celebrated – carve out dedicated time for your employees to connect, brainstorm, share ideas and learnings and ask for help or feedback. Making your team aware of the work capacities of each of your employees helps to develop connection and empathy rather than competition or resentment, and specific social time outside of work will build stronger bonds, relationships and understanding across your team at all levels.
In short, make it your business as a leader to design opportunities for collaboration and team culture to flourish, don't just wait for them to happen spontaneously.
Take the lead
If you're in the position of seeing that your team needs a cultural overhaul, remember that you're setting the tone for what you'd like to see, so lead your team by example. Whether it's managing true work-life balance by encouraging work emails and calls are taken offline for weekends, offering support and resources to all team members, having regular check-ins and team huddles, there are endless ways you can show rather than tell your employees just how important team culture is for your success as a business.
Team culture can seem like an elusive goal, but the benefits far outweigh any time and efforts you'll expend to ingrain these values into your business. By doing the legwork for team culture before or as you scale, you'll be able to reap the rewards long-term, and set yourself apart from other businesses in the war on talent.