The Coffee Club Serving Strong ROI as an Investment
The Coffee Club Serving Strong ROI as an Investment
---
The Bacchus Marsh branch of Australia's largest home-grown Coffee Club group offers an enviable opportunity for a new owner to call this solid mid-six-figure return franchise investment run under management their own.
With approximately 400 stores in 9 countries and a dedicated customer base of over 40 million, this brand thrives thanks to its glowing reputation with customers, backed by its mission to provide good food, great service, and excellent coffee in a welcoming and relaxing environment. 
An ideal investment opportunity for those looking to break into the food and hospitality industry, franchisees will benefit from the company's constant menu refinement, which stays on trend, as well as technology such as an app and order-at-table service. Additionally, virtual branding and delivery options are available to expand revenue for new owners looking to make their mark on this location. 
Franchisees will receive support from the start and throughout their journey, with training provided to teach them how to run their store and business coaches available at any stage. The company also offers financial solutions to help secure funding and a range of key documents, including an Operations Manual, Local Store Marketing Booklet, Excellent Coffee Manual, Good Food Manual, and People Manual. 
With coffee culture and lifestyle so deeply ingrained into Australian life, it's no wonder that this Bacchus Marsh Coffee Club is a popular destination for customers looking to reconnect with friends and family, have a Sunday breakfast, enjoy coffee with colleagues or take a breather from shopping.
According to a recent research report by IBISWorld, the Coffee industry in Australia is valued at around $3 billion, and it's expected to grow at an annual rate of 2.9% across the next 5 years – this spans everything from cafes to coffee shops and more specialised coffee roasters. Customers are looking for their favourite caffeine fix and an environment where they know they can get exactly what they want and how they like it. Even post-COVID, the coffee industry has bounced back with gusto, and the clientele is swarming out to support their go-to bricks and mortar locations.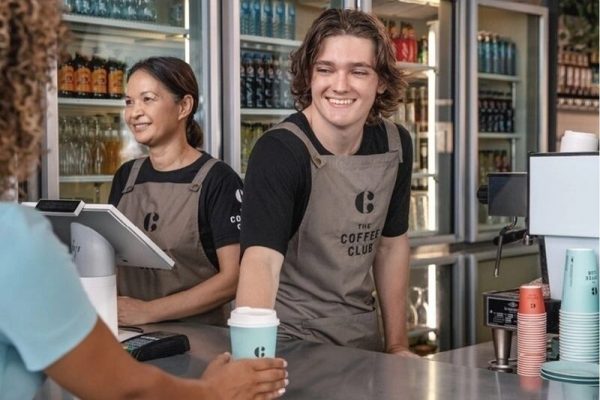 Brokering the sale from Finn Business Group is Mark Hall, who explains, "Priced at $850k + S.A.V., the name of the game here truly is R.O.I. (Return on Investment), and with this business returning mid-six-figures annually while under management, the possibilities and potential is endless, with a solid base of revenue to start with," Mark adds, "While the buyer's market at large has been exposed to a lot of negative press regarding franchise business investment, this coffee chain location is the perfect example of a fantastic R.O.I. ratio that can't be beaten and a reminder that purchasing a business with a view of investment is still viable and profitable."

To enquire about this business investment opportunity with proven returns and trained staff run under management, connect with Mark Hall today and access a comprehensive Business Profile and Market Review for this coffee franchise.
To explore more options of Business for Sale across Australia, click here.